---
University Apparel was started June 4, 1988 to be THE source for top-quality, custom Greek, and Masonic paraphernalia!! We have been able to come to you in full color via the world wide web since April 17, 1997. In addition to offering a LARGE selection of clothing for Greek-lettered Fraternities and Sororities, Fellowships, Elks, and Masonic organizations in various sizes -- including jackets, jerseys, shirts, sweatshirts, and caps -- we also offer an extensive line of novelty items, gifts, bags, jewels, collars, and much, much more! Additionally, we offer and produce a wide variety of "Spirit Wear" items for teams and clubs through our J2SPORTS line.
University Apparel is a family-owned company currently operating its retail store in Burlington, NJ, not a warehouse with "stock piles of stuff to the rafters". We do embroidery and sewing in-house, and each of our lettered clothing items is individually CUSTOM-MADE, so whether your fraternal organization is international, national, or local, University Apparel can create or have made custom items for YOU !!!
Please help us celebrate as once again University Apparel INC-MAAC has received the Best of Willingboro Award for 2017 -- Please see our PRESS RELEASE
For the 2nd year in a row (2015 & 2016), University Apparel INC-MAAC has received the Best of Burlington Award -- Please see our PRESS RELEASE as we celebrate.
NEW Store Address:

In-Store Hours:

FRATERNAL REGALIA
by University Apparel, Inc.
2512 Mount Holly Rd
Burlington, NJ 08016

Monday - Friday
10:00 am to 7:00 pm
Saturday
10:00 am to 6:00 pm
Telephone Customer Service Hours:
Monday - Saturday - 11:00 am to 6:00 pm

Phone:
609-871-3601
For Driving Directions to BURLINGTON, NJ=>

---
Please note the following 2018
non-production dates:
JAN
FEB
MAR
APR
MAY
JUN
1-2, 4-5, 9

, 15-16

1-3, 5, 12,

19-20

7-10

,

21-22,

30-31
1-2
4-5, 18-19, 21-22, 26-28, 29
22-23, 30
JUL
AUG
SEP
OCT
NOV
DEC
4, 14, 27-28
17-21
3-4, 13-17, 30
8-9, 13-15
6, 12, 15, 16-18, 22-25
24-26,
31

Our store will be CLOSED on December 24-26, 2018.
Our store will be CLOSED on Thursday, November 22, 2018 for Thanksgiving.
Our store will be CLOSED on Monday, September 3, 2018 for the Labor Day Holiday.
Our store will be CLOSED on Tuesday, July 4, 2018 for the 4th of July Holiday.
Our store will be CLOSED May 26-28, 2018 for the Memorial Day Holiday.
Our store will be CLOSED May 21, 2018 for Commencement Ceremonies.
Our store will CLOSE at 4:00 pm on May 4, 2018 for GGC R&SM.
No'easter ALERT: Production will be slowed by the effects of up to 12 inches of snow due to the Nor'easter, March 21-22, 2018.
Our store will CLOSE at 3:30 pm on March 21, 2018 due to the Nor'easter.
No'easter ALERT: Production will be slowed by the effects of 6-8 inches of snow and power outages due to the Nor'easter, March 7-10, 2018.
Our store will CLOSE at 4:00 pm on February 12, 2018.
Our store will be CLOSED February 1-3, 2018 for Grand Assembly (TX).
WINTER STORM ALERT: Production will be slowed by the effects of 'Bomb Cyclone' Winter Storm Grayson, January 4 - 5, 2018.
Our store will be CLOSED on Monday, January 1, 2018.

Red dates are closure dates. We will not be open during these dates.
Pink dates are EARLY closure dates. We will be open during these dates, but will not have normal store hours.
Green dates are Federal Holidays, which will be University Apparel non-production holidays. We may be open for business, but these dates do not count towards production time.
Yellow dates are non-production dates due to Fraternal conferences or conventions, etc. The store may be open for business, but these dates do not count towards production time.
**- double star marked dates are closures or loss of production time due to projections or actual 5+ inches of snow and/or ice or below freezing temperatures, which do not allow the machines to run properly.
---
Our staff members belong to both Greek-lettered and Masonic fraternal organizations and should be able to assist you with any ordering questions you may have. Contact us by email and we will direct your question to the appropriate place.
---
[ TheGREEKSHOP.com | TheMAAC.com ]
[ ElkExpressions.com | J2SPORTS ]
[ G-Gear | IotaWear.com ]
[ Express Checkout* | Order Forms & Templates ]
[ Request an Order Status ]
*If you have already submitted a Price Quote through one of our web sites, you may use the Express Checkout to pay by Credit Card on-line.
[ Gift Card Policies | Gift Card Balance Check ]
[ UPS Delivery Times | RUSH Production ]
[ Guestbook | About Us ]
[ Fraternal Regalia Home]
Privacy Statement/Terms of Use
The GREEKSHOP (TM), The MAAC (TM), IOTA Wear (TM), G-Gear (TM) , and Elk Expressions (TM) are divisions, trade names, or subsidiaries of University Apparel, and/or their names are trademarked properties of University Apparel and may not be used without written authorization. For more information about this website, please contact the webmaster.
J2SPORTS is a trade name of J-TWO SPORTING GOODS, founded in 1996, which is a subsidiary of University Apparel.
The items shown on our websites are not marketed nor offered for sale as ready-made or in-stock retail items for any specific organization, unless specified as such. Photos are shown as examples of the work that may have been done in the past and/or that may be made for your particular organization.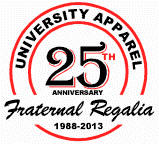 Copyright © 2005-2018 [Fraternal Regalia by University Apparel]. All rights reserved.
Information in this document is subject to change without notice.
Other products and companies referred to herein are trademarks or registered trademarks of their respective companies or mark holders.

Greek letters, name, or insignia of particular fraternal organizations are not necessarily being sold under a license or other sponsorship from those organizations, and the manufacture and/or sale of products contained herein does not necessarily indicate approval by a national or local organization. It is the product manufacturers' intent that sales be only to and/or for members or pledges of the represented fraternal organizations.
"Special order purchases from local vendors are tantamount to a consent to use agreement or a limited license..."
Sarah Evans Barker, Judge, United States District Court, Southern District of Indiana
So ordered, 25 October 2004
We make custom satin jackets, varsity jackets, leather jackets, pullover jackets, windbreakers, baseball jerseys, football jerseys, hockey jerseys, t-shirts, polo shirts, twill shirts, sweatshirts, sweaters, bags, flight suits, and BDUs and provide regalia, aprons, crowns, jewels, collars, books, fezzes, pins, keychains, medallions, jewelry, rings, engraved pens, jewelry boxes, charms, cuff links, tie tacks, afghans, blankets, gifts and novelties, for most Masonic houses, including Blue Lodge Mason, F&AM, Prince Hall F&AM, PHA, AF&AM, Prince Hall Origin, F&AAYM PHO, International Free & Accepted Modern Masons, IF&AMM, IF&AM Masons, 357, 3°, Past Master, Grand Lodge, Order of Pythagorans, Mark Master, 4°, Royal Arch Masons, HRAM PHA, Past High Priest, Grand Chapter, Cryptic Masons, Purple House, Royal & Select Masters, Super Excellent Masters, Past Thrice Illustrious Master, Grand Council, Knights Templar, Sir Knights, Commandery, Grand Commandery, KYCH, Priory, York Rite, 14°, Lodge of Perfection, 16°, Prince of Jerusalem, 18°, Rose Croix, 32°, Consistory, Past Commander-in-Chief, 33°, Grand Inspector General, Commanders of the Rite, AASR, Scottish Rite, Northern Jurisdiction, Southern Jurisdiction, Shriners, Nobles, AAONMS, Ancient Arabic Order Nobles of the Mystic Shrine, Grotto, MOVPER, Royal Order of Jesters, Mirth is King, AEAONMS, Ancient Egyptian Arabic Order Nobles of the Mystic Shrine, Past Potentate, OES, Order of the Eastern Star, Past Matron, Past Patron, Queen of the South, Amaranth, HOJ, Heroines of Jericho, Past Most Ancient Matron, LOCOP, Ladies of the Circle of Perfection, Past Royal Perfect Matron, Order of Cyrenes, Crusaders, Heroines of the Templar Crusades, Past Royal Commandress, Order of the Golden Circle, Past Loyal Lady Ruler, Daughters of Isis, Past Commandress, Daughters of Sphinx, Rose of the Seven Seals, RSS, Daughters of the Nile, LOS of NA, Ladies Oriental Shrine of North America, Daughters of Mokanna, and White Shrine of Jerusalem. We also provide items for International Association of Turtles, Inc. Are You a Turtle? YBYSAIA, and make items with Greek letters such as Alpha, Beta, Gamma, Delta, Epsilon, Zeta, Eta, Theta, Iota, Kappa, Lambda, Mu, Nu, Xi, Omicron, Pi, Rho, Sigma, Tau, Upsilon, Phi, Chi, Psi, Omega.