---
ORDER NOW
Thank you for your interest in ordering your custom items from University Apparel, Inc. For your convenience and safety, your order will be submitted to a secure server.
Please read in full BEFORE you place an order.
Placement of any order (either on-line, by fax, or by mail, in person, etc.) confirms your agreement to these terms and policies.
---
I have already submitted a Price Quote, or I already have an order on-file. I agree to the terms. Let's use
EXPRESS CHECKOUT
to pay by credit card on line.
---
1. A minimum of 50% deposit is required on all orders. Payment of the balance due is required by the stated balance due date, prior to completion of the order, or production will be delayed. A PRICE QUOTE does NOT constitute an order. Price quotes will be kept on file for 7 days or until payment is received, whichever is earlier.
2. Deposits are not refundable.
3. No unsecured checks are accepted. Money orders (along with certified or bank checks) are accepted in US$ made payable to UNIVERSITY APPAREL, Inc.
4. Orders are subject to a non-refundable minimum 3%-5% order processing charge/convenience fee. Pay in-store or pay CA$H by mail and SAVE the 3-5%. The following methods are considered cash payments for on-line transactions: Money Order, Certified Check, Bank Check, or Western Union transfer. A $60 fee will be charged for each returned credit card payment (i.e.: chargeback), bank check or money order, regardless of reason. There will be a minimum fee of $12.00 (or 6%, whichever is greater) to reprocess orders which provide invalid credit card billing addresses.
5. All customized items must be paid in full PRIOR to completion and/or shipment.
6. Orders are processed upon receipt of payment; any changes will result in at least a $10.00 service charge. Changes must be made in writing, via fax or e-mail; we will not take them over the phone. We are not responsible for lettering/order requests made by phone.
7. UNIVERSITY APPAREL is not responsible for complying with a due date or production time if your balance is LATE.
8. All production times are estimated times of completion & are NOT guaranteed delivery dates. Actual completion and/or shipment of your order may occur before, during, or slightly after the ESTIMATED production dates provided on your invoice.
9. UNIVERSITY APPAREL is not responsible for items or balances over 30 days. (Unclaimed merchandise and/or deposits may be forfeited.) Completed items which are held over 30 days may incur additional storage charges (minimum $5.00). If you fail to remit all unpaid balances, or if you leave completed merchandise in our possession for over 60 days, UNIVERSITY APPAREL, at its option, shall have the right to sell, manufacture additional product, or dispose of your merchandise without notice or obligation to you or any third party. This, however, does not relieve you of any indebtedness you may have to UNIVERSITY APPAREL, should the sale of your merchandise not be sufficient to cover your balance due. You agree by placing your order with UNIVERSITY APPAREL that in the event UNIVERSITY APPAREL sells your merchandise as necessary to recoup your indebtedness, you shall remain solely responsible for the payment of any and all obligations which may arise from such sale, by reason of the rights of third parties. You shall indemnify and hold UNIVERSITY APPAREL, its employees, licensees and agents harmless with respect to any such claims and expenses, including attorney's fees that may be sustained by UNIVERSITY APPAREL, as the result of the sale of your merchandise.
10. A minimum service charge of $20.00 will be charged on all invoices paid 14 days or more past due. Additional late fees and/or order cancellation may apply if not paid.
11. All printed orders require camera ready artwork. If artwork is not supplied, a minimum art charge of $35.00 will be assessed.
12. Screen-printed orders carry a screen charge of $35.00 per screen. If complete camera ready artwork is not supplied, the following minimum charges will also be applied: $20.00 typesetting charge and/or $35.00 art charge.
13. All customized branded paddles and engraved plaques require typed artwork (including names). If artwork is not supplied, a minimum typesetting charge of $15.00 will be assessed.
14. All screens, artwork, pictures, programs, etc. are the property of UNIVERSITY APPAREL whether created by University Apparel, Inc. or its representatives, or whether submitted by the customer.
15. An order is considered to be a RUSH order if it is required, and can be completed, before the current normal production time. All RUSH orders must be paid in full at the time of the order.
16. A service charge will be assessed to all RUSH orders if accepted.
17. UNIVERSITY APPAREL ships most packages within the continental US via ground services, FOB Lithoinia. Standard shipping/handling charges (up to 2 lbs.) within the continental US and to APO/FPO boxes are as follows:
up to $49.99, add $18.00
$50.00-$99.99, add $20.00
$100.00-$219.99, add $25.00
$220.00 and up, add 11.5%
IMPORTANT: ADDITIONAL SHIPPING COSTS MAY BE ASSESSED DEPENDING ON SHIPPING LOCATION AND/OR WEIGHT AND/OR SIZE OF BOX NEEDED TO SHIP ITEM(S). PLEASE INQUIRE.
Shipping upgrades may be added to regular Ground rates at an additional cost. Selection of a SHIPPING UPGRADE has no bearing on the PRODUCTION TIME of your order. It simply decreases the TRANSIT TIME that it takes UPS to deliver your package once your order is complete.
NEW !!! Ground shipping now available to AK, HI, Canada, and Puerto Rico. Rates slightly higher. To check Ground UPS transit times to your area, please click this link => http://www.fraternalregalia.com/ups.html
Note: If a shipping address is changed either during production or during transit, a minimum $15.00 service fee will be assessed. If a package is returned by UPS for any reason, a minimum fee of $10.00 will be charged, in addition to applicable reshipping charges.
18. All items shipped must be paid in full prior to shipping date. UNIVERSITY APPAREL does not ship orders COD (cash on delivery).
19. Group orders are the responsibility of the group leader. Only one invoice will be issued for group orders, and only one contact person will be authorized for all correspondence on the order. All email correspondence must be to and from the email address used at the time of order placement.
20. An order is not complete until all items are finished. Individual pieces of an order will not be shipped, nor picked up until the entire order is complete, unless prior arrangements have been made.
21. Merchandise may not be picked up without a receipt or pick-up confirmation notice. UNIVERSITY APPAREL will not be responsible for locating merchandise without an invoice number.
22. Prices and/or item availability are subject to change without notice. All items will be charged at the current prices in effect at the time payment is received.
23. All sales are final. UNIVERSITY APPAREL does not issue refunds, unless the item ordered has been discontinued by the manufacturer. Items which are custom-ordered or custom-lettered cannot be returned.
24. All cancellation requests must be approved and made in writing, via fax or e-mail. Verbal cancellations will not be accepted.
25. At its discretion, UNIVERSITY APPAREL may charge at least a 20% restocking/cancellation fee and/or a $25.00 charge on orders canceled within a 24-hour period, provided work on the order has not been started.
26. If an order is canceled for any reason, UNIVERSITY APPAREL may re-initiate it, at its discretion, upon receipt of full payment plus service charges (if any) and a re-initiation fee of at least $10.00 on orders of $49.99 or less or at least $25.00 on orders of $50 or more.
27. Due to circumstances beyond our control & due to color variances of materials, we cannot guarantee continuity of exact shade, color, size, texture, or construction of finished goods from lot to lot. All sizes are unisex sizes, unless otherwise stated, and UNIVERSITY APPAREL is not responsible for the fit of a garment which has not been tried-on.
28. Orders for anyone found to be an ILLEGAL member of an organization will be canceled immediately without refund. We reserve the right to contact the National, Regional, and/or Local representative of the organization in question.
29. UNIVERSITY APPAREL disclaims and denies all expressed or implied warranties against infringement of design.
30. Customer warrants that it has the right to use the artwork, logos, design, etc. that is/are requested to be placed on UNIVERSITY APPAREL products. Customer also warrants that it shall defend, indemnify, and hold harmless UNIVERSITY APPAREL it's officers, shareholders, employees, and agents against any claims for damages and costs, including but not limited to attorney's fees and costs, in any cause of action, including but not limited to an infringement action, as a result of embroidery, applied lettering, and/or printing of the requested artwork, logos, design, etc.
31. At its discretion, UNIVERSITY APPAREL reserves the right to refuse service.
32. Buyer acknowledges and agrees that he/she is an Authorized Buyer and is purchasing for a member of Alpha Kappa Alpha Sorority paraphernalia and other goods that bear Alpha Kappa Alpha Sorority's logos, designs, copyrights and trademarks. Buyer understands and agrees that a non-member is not allowed to purchase, own or possess such items except where purchasing such items for the benefit of an active member. Buyer also acknowledges and agrees that the purchase of Alpha Kappa Alpha Sorority items for any other reason is prohibited. In addition, Buyer acknowledges and agrees that purchasing these item(s) under false pretense authorizes Alpha Kappa Alpha Sorority to immediately (1) remove such items from the internet and social media platforms such as Facebook, twitter, snapchat, ebay, amazon.com, etsy.com and the like (hereinafter collectively "Third Party") and (2) repossess such purchased item(s) from Buyer, and from aforementioned Third Party and their mediums on which Buyer attempts to sell them. Buyer also knowingly waives its right under the First Sale Doctrine to subsequently sell, and attempt to sell, any item(s), bearing a Sorority Mark, individually and through a Third Party or by any other means.
33. Neither UNIVERSITY APPAREL, INC. nor any of its representatives nor agents will be held liable or responsible for damages or potential damages caused by or resulting from attempted or applied heat, printing, lettering, embroidery, clipping or other requested or production-related customized work to any garment(s) supplied by a customer, unless the garment(s) was/were originally purchased from or manufactured by UNIVERSITY APPAREL, INC., or any of its subsidiaries and completed within the past 30 days. Additionally, a non-refundable fee will be applied to the cost of the order.
By clicking on the "Express Checkout" link below, you agree to all the terms and are ready to place your order.
---
I have already submitted a Price Quote, or I already have an order on-file. I agree to the terms. Let's use
EXPRESS CHECKOUT
to pay by credit card on line.
I Do NOT Agree
I am not yet ready to order and will continue to browse.

back to the top
---
[ TheGREEKSHOP.com | TheMAAC.com ]
[ ElkExpressions.com | J2SPORTS ]
[ G-Gear | IotaWear.com ]
[ Express Checkout* | Order Forms & Templates ]
[ Request an Order Status ]
*If you have already submitted a Price Quote through one of our web sites, you may use the Express Checkout to pay by Credit Card on-line.
[ Gift Card Policies | Gift Card Balance Check ]
[ UPS Delivery Times | RUSH Production ]
[ Guestbook | About Us ]
[ Fraternal Regalia Home]
Privacy Statement/Terms of Use
The GREEKSHOP (TM), The MAAC (TM), IOTA Wear (TM), G-Gear (TM) , and Elk Expressions (TM) are divisions, trade names, or subsidiaries of University Apparel, and/or their names are trademarked properties of University Apparel and may not be used without written authorization. For more information about this website, please contact the webmaster.
J2SPORTS is a trade name of J-TWO SPORTING GOODS, founded in 1996, which is a subsidiary of University Apparel.
The items shown on our websites are not marketed nor offered for sale as ready-made or in-stock retail items for any specific organization, unless specified as such. Photos are shown as examples of the work that may have been done in the past and/or that may be made for your particular organization.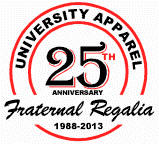 Copyright © 2005-2018 [Fraternal Regalia by University Apparel]. All rights reserved.
Information in this document is subject to change without notice.
Other products and companies referred to herein are trademarks or registered trademarks of their respective companies or mark holders.

Greek letters, name, or insignia of particular fraternal organizations are not necessarily being sold under a license or other sponsorship from those organizations, and the manufacture and/or sale of products contained herein does not necessarily indicate approval by a national or local organization. It is the product manufacturers' intent that sales be only to and/or for members or pledges of the represented fraternal organizations.
"Special order purchases from local vendors are tantamount to a consent to use agreement or a limited license..."
Sarah Evans Barker, Judge, United States District Court, Southern District of Indiana
So ordered, 25 October 2004
We make custom satin jackets, varsity jackets, leather jackets, pullover jackets, windbreakers, baseball jerseys, football jerseys, hockey jerseys, t-shirts, polo shirts, twill shirts, sweatshirts, sweaters, bags, flight suits, and BDUs and provide regalia, aprons, crowns, jewels, collars, books, fezzes, pins, keychains, medallions, jewelry, rings, engraved pens, jewelry boxes, charms, cuff links, tie tacks, afghans, blankets, gifts and novelties, for most Masonic houses, including Blue Lodge Mason, F&AM, Prince Hall F&AM, PHA, AF&AM, Prince Hall Origin, F&AAYM PHO, International Free & Accepted Modern Masons, IF&AMM, IF&AM Masons, 357, 3°, Past Master, Grand Lodge, Order of Pythagorans, Mark Master, 4°, Royal Arch Masons, HRAM PHA, Past High Priest, Grand Chapter, Cryptic Masons, Purple House, Royal & Select Masters, Super Excellent Masters, Past Thrice Illustrious Master, Grand Council, Knights Templar, Sir Knights, Commandery, Grand Commandery, KYCH, Priory, York Rite, 14°, Lodge of Perfection, 16°, Prince of Jerusalem, 18°, Rose Croix, 32°, Consistory, Past Commander-in-Chief, 33°, Grand Inspector General, Commanders of the Rite, AASR, Scottish Rite, Northern Jurisdiction, Southern Jurisdiction, Shriners, Nobles, AAONMS, Ancient Arabic Order Nobles of the Mystic Shrine, Grotto, MOVPER, Royal Order of Jesters, Mirth is King, AEAONMS, Ancient Egyptian Arabic Order Nobles of the Mystic Shrine, Past Potentate, OES, Order of the Eastern Star, Past Matron, Past Patron, Queen of the South, Amaranth, HOJ, Heroines of Jericho, Past Most Ancient Matron, LOCOP, Ladies of the Circle of Perfection, Past Royal Perfect Matron, Order of Cyrenes, Crusaders, Heroines of the Templar Crusades, Past Royal Commandress, Order of the Golden Circle, Past Loyal Lady Ruler, Daughters of Isis, Past Commandress, Daughters of Sphinx, Rose of the Seven Seals, RSS, Daughters of the Nile, LOS of NA, Ladies Oriental Shrine of North America, Daughters of Mokanna, and White Shrine of Jerusalem. We also provide items for International Association of Turtles, Inc. Are You a Turtle? YBYSAIA, and make items with Greek letters such as Alpha, Beta, Gamma, Delta, Epsilon, Zeta, Eta, Theta, Iota, Kappa, Lambda, Mu, Nu, Xi, Omicron, Pi, Rho, Sigma, Tau, Upsilon, Phi, Chi, Psi, Omega.